The novel Coronavirus has changed the world as we know it. If you're living in Jerusalem, you're most likely quarantined or self-isolated from friends, co-workers, and the rest of the city. It hasn't been an easy time for anyone. Many are sick and dying, and those that are healthy, struggle with work, entertaining children, and just keeping their sanity intact. The list of struggles that society is going through are countless and nobody knows when all of this is going to end. All we can do is make the most of the situation we're in. How can one stay sane and positive in self-isolation? For those in Jerusalem, we have a couple of suggestions.
STAY HEALTHY & ACTIVE
How can one stay active when all the gyms in the city are closed? How can you go for a run, when going more than a 100 meters outside of your home is prohibited? The Coronavirus may have got all Jerusalem residents staying at home, but virtual exercise sessions in the city are on the rise. Fitness trainers, non-profit organizations, and local Jerusalem residents are taking to Facebook, Zoom, Instagram, and every digital platform available to offer fitness and dance classes alike. Many of the local Jerusalem fitness trainers are now offering zoom training sessions in place of their normal sessions at the gym. Fitness Trainers are creating mini-workout tutorials for those busy with kids and Health Coaches & Dieticians are offering tips on well-being and eating right. It may not be easy keeping your sanity with everything going on, but doing even just a little exercise every day can do wonders for your physical and mental health.
MIRPASOT
Whether you reside in Baka, Katamon, Talpiot, or any of the beautiful Jerusalem neighborhoods, you will find plenty of apartments with mirpasot (balconies in English). If you're lucky, like many Jerusalem residents who have an apartment with a mirpeset, we suggest you take advantage. Sit out and read a book, tan, BBQ, and just enjoy the beautiful weather around this time of the year. Who knows, maybe you will finally meet the neighbor on the other side of the street or the couple from across the hall. Jerusalem residents haven't taken their balcony life for granted. Whether it's clapping in unison for the nurses on the front lines, celebrating small weddings in the courtyard of the building complex, or singing ma nishtana (the four questions found in the Haggadah) all together on Passover night, Mirpasot have found a new and important purpose in Jerusalem.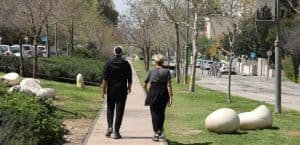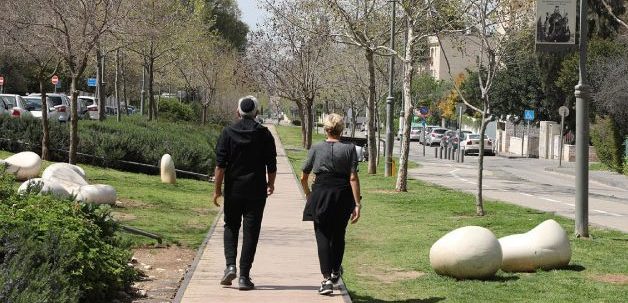 THE BEST HEALTHCARE
Jerusalem residents should take solace in knowing that Israel is ahead of the vast majority of countries in combating the virus.  Israel took precautionary measures early on and as a result, has 'flattened the curve' quickly. Things are already getting better. In the meantime, testing is available, the overall mortality rate has been low, and further precautionary measures are being taken. In Shaarei Tzedek and Hadassah hospitals, Nurses are working day and night to provide incredible care for infected patients. Even the patients inside of the COVID-19 units are taking care of each other. The young are taking care of the old and those capable are taking care of patients with greater suffering. In a city where everyone is family, everyone is doing what they can to take care of each other.
GO FOR A WALK… EVEN IF IT'S A SHORT ONE
We want to preface this one by stating nobody should be breaking or disregarding the Israeli government's restrictions during this crisis. While the rules are constantly shifting, for the most part, the government has permitted walking within 100-300 meter radius of your home; while wearing a mask, of course. You may not get very far, but fortunately in Jerusalem, you don't have to go too far to see and appreciate the beauty of the neighborhood. Jerusalem neighborhoods are filled with greenery, parks, beautiful homes, history, and stunning architecture. You may have not even noticed the beauty of your neighborhood before when you faced a usual busy commute. Plus, with fewer people out and about, you can really appreciate the calm and serenity of Jerusalem life. It's a city unlike any other, so take a few minutes to look around.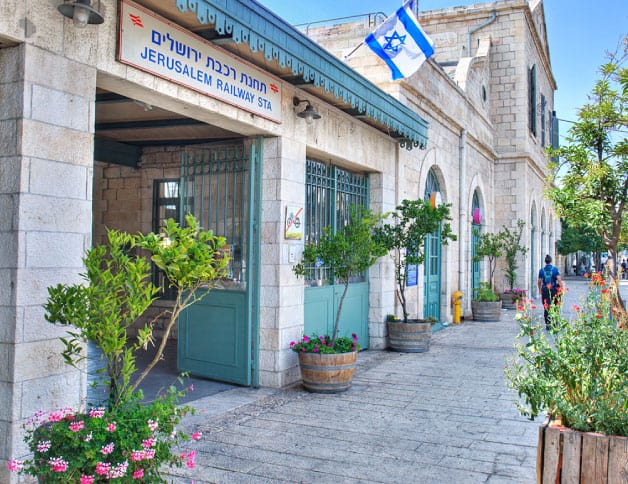 THE COMMUNITY
One of the greatest parts about living in Jerusalem is that when you buy an apartment, you're not just buying a physical property; you're becoming a part of a community. Whether locals are out in the streets or in isolation, they will always be a community. Whether that means sharing fitness classes via zoom, celebrating a stranger's wedding from their balcony, or taking care of infected patients even when they are one themselves, Jerusalem experiences things together. Sure, we honk our horns combatively at each other during rush hour, argue vehemently over politics, and stick our noses into our neighbors business. But we also help hold a mother's baby as she is getting her children off the bus. We give charity to the old lady looking for food on the corner. We pray for those who are sick in the community even if we don't know them. We celebrate when our neighbors celebrate and we mourn when they mourn. When you invest in property in Jerusalem, you're buying more than just a building. So when everything's said and done, these times of pandemic and isolation are far from easy. But Jerusalem residents should find comfort in knowing that even in these times they are not truly alone. Am Yisroel Chai.
When you're ready to explore some of Jerusalem's most beautiful areas and find you're next home in Jerusalem, we recommend you contact ASDEN. With years of experience in luxury real estate, your move to Jerusalem will be all that easier and get all the more exciting. Plus read more on living in Jerusalem, including "Jerusalem Architecture: From Ancient to Modern" and "Our Guide To Jerusalem Neighborhoods"